Now is the Right Time to Invest in the Medical Device Industry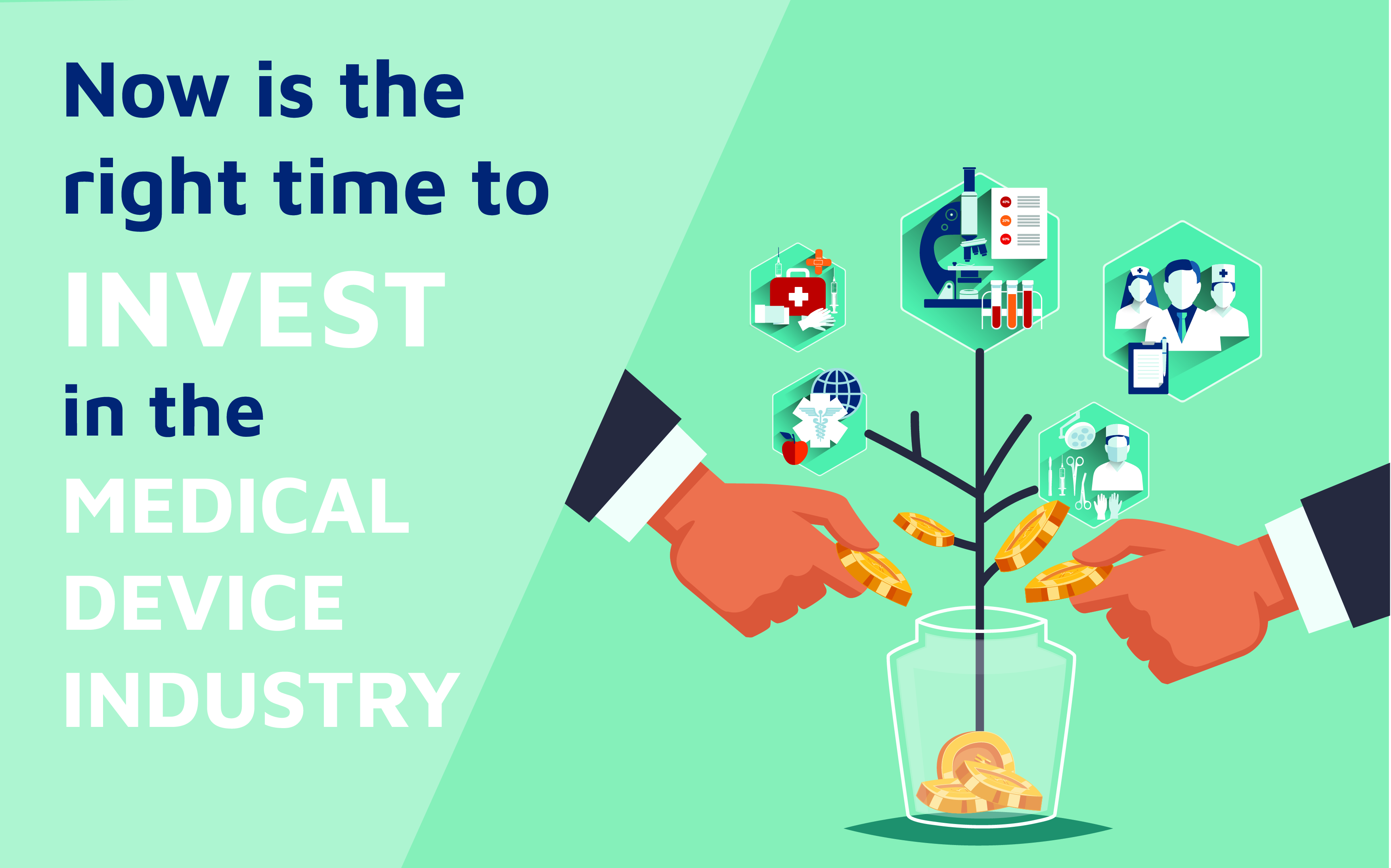 India is the 4th largest market of medical devices in Asia and is counted amongst the top 20 markets in the world. In 2020, the total market was estimated to be US$5.2 billion and is projected to reach US$50 billion by 2025. However, most demand for medical devices in the country is currently met through imports, comprising ~80% of the total sales. This high import dependency offers an attractive proposition for domestic manufacturers.
With strong demand, positive legislative and technical environment along with solid R&D spending and investments into innovation, many countries are proving to be main drivers of exceptional growth like Germany that continues to remain the largest European medical device exporter, with strong export growth to the USA (Germany's number one trade partner) and Japan, alongside its focus on elderly care, is set to increase at a steady pace in the upcoming years, as the rising number of patients in need of the healthcare service calls for greater hospital infrastructure investments in the long run.
The ongoing COVID-19 pandemic has exposed the medical devices sector to several challenges as well as opportunities. In addition, the industry is also coping with disruptions to businesses caused by the outbreak. Some challenges include disruption to the supply chain and adverse impact on financial expectations, operations, and crisis response plans. The need for an adequate volume of products has put manufacturers to test; with rising cases of COVID-19 and limited capacity, the industry was forced to swiftly advance to combat the crisis. These disruptions have outlined the perils of the high import dependency of this sector.
However, this ongoing crisis has also presented immense opportunities that were unexplored before. For example, previously, the use of advanced and complicated medical devices was limited to bigger multi-specialty hospitals, but due to COVID-19, limitations on treatment and patient movement have led to the adoption of these devices in even smaller healthcare institutions.
Further, the transmissible nature of the virus has led to more people preferring home care, resulting in the increased demand for medical devices, which can be used at home.
As a result of the pandemic, several new manufacturers started production in the country. For example, before COVID, only 20 firms were manufacturing 62 lakhs PPE kits per year, but within 2–3 months, the number of manufacturers increased to 140 with an annual capacity of 25.55 crores. Similarly, the number of Indian manufacturing firms, including ventilator manufacturers went up from 8 to 17, mask manufacturers from 30 to 108, swab manufacturers from 0 to 5, sanitizer manufacturers from 35 to 49, and RT PCR kit manufacturers from 0 to 8.
COVID-19 disrupted the first half of 2020, but many regions are already preparing to resume normalcy in the next months. The precautions put in place to help contain the virus have temporarily impacted how businesses operate, but limits are gradually being relaxed.
Because of the delay in global sectors, activity is expected to pick up once the virus is no longer a threat. Many industries will be looking for ways to boost revenue from lost business, but the medical devices industry faces a unique challenge: producing the amount of equipment required around the world.
In this article, we take a look at why now is an excellent time for investing in The Medical Devices industry.
Coronavirus and Medical Device Production
Due to coronavirus, the demand for medical device products has been higher in recent years than in living memory. Worldwide, stocks of PPE and medical equipment have been in much-needed demand, with the eyes of the world on producers of this equipment.
One crucial issue that the coronavirus outbreak has highlighted is the shortage of medical device equipment during a pandemic. Governments across the globe are now taking steps to ensure this never happens again, hence an increase in medical device production.
Why Are So Many Businesses Investing in this Industry?
The medical devices industry in India consists of large multinationals as well as small and medium enterprises (SMEs) growing at an unprecedented scale.
The current market size of the medical devices industry in India is estimated to be nearly $11 bn.
The government has implemented reforms which have allowed businesses to grow. In the past year, economies in the region have implemented many measures. The government is mainly focused on allowing the country to grow economically, and many organizations are currently taking advantage.
Next, let's take a look at the medical devices sector in the region, and why now is the right time to expand in this sector.
The Medical Market
India is the 4th largest market for medical devices in Asia. Therefore, spending on healthcare and all associated industries is on an upward trajectory. Because of this, the region has become a key growth target for manufacturers of medical devices and equipment.
The medical devices market has the potential to increase at a 37% CAGR and reach $50 bn by 2025.
Medical devices are segregated into five major segments:
Consumables & Disposables include needles and syringes, etc.
Diagnostic Imaging includes MRI, X-Ray, Ultrasound, etc.
Dental Products include dentures, braces, etc.
Orthopaedics & Prosthetics include knee implants, artificial joints.
Portable analysis kits for accurate, objective muscle testing & range of motion measurements.
Patient Aids include hearing aids and pacemakers, etc.
Around 65% of the manufacturers in India are mostly domestic players operating in the consumables segment and catering to local consumption with limited exports. Large Multinational Corporations lead the high technology end of the Medical Devices market with extensive service networks.
There are 750–800 domestic Medical Devices manufacturers in India, with an average investment of $2.3–2.7 mn and an average turnover of $6.2–6.9 mn.
The manufacturing is developing in its scale and geography: six Medical devices are manufacturing "clusters" in the country.
Clusters have "Medical Device Parks" developing around them: states have committed to set up dedicated industrial parks for efficient domestic manufacturing at lower costs. The State Government of Himachal Pradesh, Tamil Nadu, Madhya Pradesh, and Uttar Pradesh have been given "in-principle" approval to develop Medical Devices Parks & create a robust ecosystem for medical device manufacturing in the country.
Industrial Trends
Big data
Medical devices generate huge amounts of essential, timely data that can have a significant clinical impact. Predictive analytics models using 'Big Data' can improve the quality of care and patient outcomes, as well as help physicians gain useful insights.
Wearable devices
Wearables such as glucose monitors, exercise trackers, and wearables for mental health are becoming popular among consumers in India because of their ease of usage.
Robotic surgeries
One of the most exciting and fastest-growing fields of healthcare is robotics wherein future developments range from robot companions to exoskeletons. Robot companions also have their place in healthcare to help alleviate loneliness, treat mental health issues or even help children with chronic illness.
Startups
4000+ active Health-Tech Startups based out of India. Health-tech and Digital Health startups in India raised over US$2 billion between 2011–2020 with 500+ investments into 340+ companies. 70+ successful exits over the past 10 years.
Telemedicine
Telemedicine trials have demonstrated that remote consultations cost about 30% less than equivalent in-person visits, replacing half of the in-person consultations in India, and an accelerated plan could enable the country to tap 60–80% of this potential by 2025. Launch of the Telemedicine Practice Guidelines, March 2020 to assist the medical practitioner in pursuing a sound course of action to provide effective and safe medical care founded on current information, available resources, and patient needs to ensure patient and provider safety.
As we move forward, healthcare will remain a top priority for the government, leading to a constant need for high-quality medical device providers in the region.
Additionally, low tax rates are attractive to worldwide suppliers of medical devices and equipment who have flocked to the region to do business. Now is the best opportunity to expand your medical device business.
However, one challenge that some organizations cite is the difficulty in understanding the complex infrastructure and requirements the process is not homogeneous.
Solving this problem, the Indian Government has identified medical devices as a priority sector for the flagship 'Make in India' program and is committed to strengthening the manufacturing ecosystem. The Production Linked Incentive Scheme (PLI) Promoting Domestic Manufacturing of Medical Devices and Production Linked Incentive Scheme for Pharmaceuticals (PLI 2.0) has been introduced to provide an impetus to India's vision of becoming a global manufacturing hub for medical devices.
The medical equipment sector is well-positioned to take advantage of a growing demand for healthcare as the elderly become a larger percentage of the overall population. Moreover, innovations offer ways to improve the lives and welfare of everyone. The best time to buy depends on the type of investor you are. Growth investors can take advantage of the rapid innovation that many companies can accomplish, while value investors might find good buying opportunities on temporary dips in the price of a company's stock. In each case, investors should assess the long-term opportunities as well as the risk of the company and its products.
---